Courtney Anderson Brown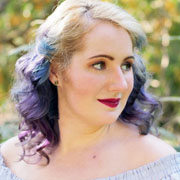 Courtney is a freelance Costume Designer and Wardrobe Technician. She is currently an MFA candidate in Costume Design at the University of Illinois @ Urbana-Champaign. In 2014, she received a Bachelor of Arts from Northern Michigan University in Theatre, French, and English.
​She seeks out projects with an emphasis on family structures, LGBTQ+ history, women's equality, and environmental focus. Courtney enjoys the challenge of designing for new works and Up-cycling.
Although I have always been a lover of fashion and clothing, I began building and designing costumes for theatre mainly when I began university. I enjoy a challenge–whether it be an actor challenge or a budget challenge–and creating the perfect look for a production. I meet deadlines and exceed expectations, and enjoy working in a plethora of fields with different designers, technicians, and directors.
Over the past 8 years, she has worked in a variety of venues including university theatre, tours, Off-Broadway, Equity houses, theme parks, regional and community arts centers, and high school drama programs across the country including NYC, Michigan, Pennsylvania, Illinois, Nebraska, and Maine.
Recent Costume Designer Credits include: Titus Andronicus, Mamma Mia!, The Cherry Orchard, The Hunchback of Notre Dame, Peter and the Starcatcher, A Long Day's Journey Into Night
"Michigan Gems"
This mask features a scene from the shores of the Great Lakes, which are the gems of Michigan. I would frequently walk along these shorelines during quarantine, The sky never seemed bigger than on a starry evening.
On the reverse side is the phrase "That Woman from Michigan," which applies to the political side of Covid-19 in Michigan, when President Trump tweeted critically about Governor Gretchen Whitmer's lifesaving decisions about stay at home orders in Michigan.
Those of us in support of Whitmer made t-shirts and accessories with this phrase, adopting it from a negative source into an encouraging mantra.
Being a woman from Michigan myself, I am inspired by strong woman leaders like Gretchen Whitmer who keep doing the next right thing and moving forward regardless of overwhelming personal and violent threats.
This mask features hand-painted lace, cut foil and vinyl designs and 3 different 100% cotton fabrics. Ties are 18 inches long of Ivory Herringbone Twill Tape. Sides are open for filter insert.